Yippee! Don't you love an opportunity to win something free? I know I do, and today I have several exciting giveaways to tell you about!
Read on for all the details...and "Welcome Project Create A Home" readers!
First,for a little "Koffords in Colorado" giveaway...
Leave a comment below to win the following fun "Cafe Au Lait" set! Fun for yourself or to give as a gift!
Ooh la la...this giveaway includes a wrought iron towel holder, two kitchen plaques, two coffee themed placemats and two hot pads for the kitchen....
This cute towel holder (from "Real Deals" you've heard me mention) will hold a roll of paper towels as well as dish towels. This would also be very cute in the bathroom holding hand towels!
Blues and browns in the coffee themed placemats, towels, etc...
Cute french baker on a wooden plaque....the plaques both measure, 6 1/2 in. by 8 1/2 inches.
Leave a comment below to enter, add a quick mention on your site for another entry, and even better yet...do something good for someone today and tell me about it...that counts for 5 entries! Winner will be chosen on Wednesday evening at 8 p.m!
Editor's Note: You may enter each day through Wednesday at 8 p.m. Good deeds and kind gestures count daily! (Since that's the best reason to win anyway!) Good luck! :-)

Interested in even more giveaways?
I am involved in a new site called, "Project Create A Home"
developed by Meme of "
Screaming Meme
." Meme has gathered a group of ladies who will contribute life and style tips to readers on topics ranging from finances, decorating, fashion, organzing, health, fitness, etc...It's an exciting site and today is the "Grand Opening!" There is a special giveaway today where one lucky reader will receive a life and style makeover.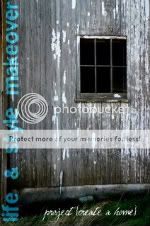 Think "life coach" rolled into one giveaway! Many of the contributing writers are also doing giveaways, so be sure to stop by and enter! You can find me there from time to time submitting articles as well.
Have a great week, and let's win! :-)